Building, Energy efficiency, Green, Heat Recovery Ventilator, HRV, Insulation, Metal roofing, Metal siding, Portland modern, Sustainable, Uncategorized, Water conservation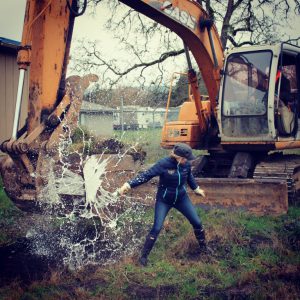 As most folks know, this is wine country. David Lett and his wife Diana planted the first 3,000 Pinot noir vines in the Willamette Valley in 1965. 40 years later, in 2005, Cody Wright started Purple Hands Winery. With help from his wife, Marque, they've successfully and steadily grown their business by consistently delivering outstanding and world renowned wines.
Prior to starting Purple Hands, Cody worked for several highly acclaimed vineyards in both management and winemaking roles. Local vineyards included Ken Wright Cellars, Argyle, and ROCO. Abroad Cody worked with Knappstein and Ata Rangi.
Due to its unique climate, over 70% of Oregon's vineyards and wine production is within the Willamette Valley, as well as over 500 wineries. It was no mistake that Cody chose this region to lay down his roots in the premiere spot for Pinot noir. Sourcing grapes from 6 vineyards with varying soil types Purple Hands has staked their claim by specializing in outstanding boutique-quality wines for the past 10 years.
With Oregon striving to push the adoption of more sustainable practices on its agricultural many wineries, like Purple Hands, source grapes from certifiably sustainable vineyards.
Sustainability is important to Cody and Marque who understand that the success of their wine is only attainable from the quality of the earth that bears the fruits. "Our wines bear an unmistakable connection to the earth—and not only because grapes grow in dirt. Air, water, soil, animals—entire ecosystems—make our wines what they are." With this in mind, the Wrights do all they can to ensure they're using the best sustainable practices throughout their business.  "From the earth, for the earth."
As the region celebrated its 50th anniversary of the first Pinot planting last year, it was a great time for Purple Hands to decide to expand and relocate their tasting room and winery right in the heart of Dundee nestled within the vibrant new downtown.  With the rising numbers of exceptional restaurants, shops and inns being established along 99W, adding their store front in the mix supports their organic branding as a hands-off marketer. Being word-of-mouth allows them to focus more on the quality of their wine and their styles and techniques." It's not about being a big showoff-y winery; it's about delivering a quality product and being a part of the community."
Community is another important topic to Cody and Marque and each year Purple Hands donates to various charitable organizations. To be able to support fundraising efforts of causes they're so passionate about and believe in is essential to who they are as people and as a business.
It's no surprise that Cody and Marque chose to team up with local green builder Cellar Ridge Construction to build their new facility. Being a leader in green building in Oregon, Cellar Ridge has a heavy focus on giving back to the community and sustainable building practices. The new Purple Hands building will feature reclaimed wood throughout, energy efficiency, water conservation, and Rain Gardens among other things.
As you drive through Dundee in the coming months, don't forget to look North at 1200 N HWY 99W to watch the progress. With things well under way, it looks like the new facility's unveiling could be as early as August. What a great month August will be to taste the fabulous wines at Purple Hands and grab a bite at one of Dundee's fine restaurants as the evening sets in. Well done Purple Hands; cheers to you and your vision.